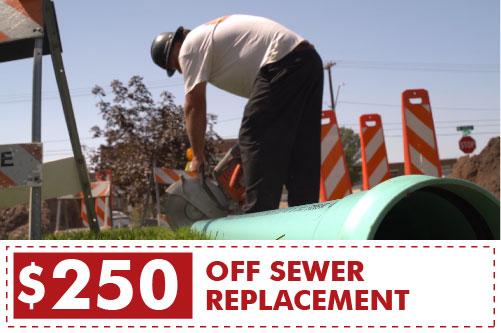 West Jordan Drain Repairs
Modern home drain systems are vital to keeping the water flowing cleanly and reliably. But when a drain is damaged due to flooding, major clogs, or even collapses, you could be putting your water source at risk for contamination or other hazards. At Any Hour Services, we specialize in main line and sewer line drain repairs to make sure your water is always flowing properly!
Signs you may need drain repair:
Frequent slow drains
Unpleasant odors
Recurring clogs
Odd, gurgling noises
Multiple clogged drains
One of the most common causes of main drain line issues is tree root damage. Since pipes are located underground, it probably isn't surprising to learn roots will spread out and grow wherever there is room, including around and inside your home's plumbing system. Tree root damage can range from minor damage such as clogging to large scale sewer line collapses.
The experienced plumbing team at Any Hour Services specializes in drain repairs of all sizes and can help you return your home's drain system back to normal. We work hard to develop a long-lasting solution that doesn't break the bank. This is why with all main line and sewer line repairs we use state-of-the-art trenchless pipe repair methods to help you save money on repair and landscaping costs.
Don't trust your drain repairs to just anyone! Any Hour Services has years of experience specializing in trenchless drain and sewer repairs saving you both time and money. Call us today at 385-233-3551> to schedule drain repair in West Jordan.